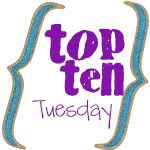 I've seen this little meme floating around some of my favorite blogs and I've thought it would be fun to join in. So…ta da! My Top Ten Tuesday list today is 10 things I've found on Pinterest that I want to make.
1. My kiddos would totally love doing this:
2. I totally want to use this pose when Baby #4 arrives:
3. Tootsie Rolls are my favorite candy:
4. This looks DIVINE:
5. I was so thrilled to find this tutorial, this is the style of carrier I wanted to get, now I can make one just the way I want it:
6. I'm wanting to do cloth diapers this time I'm going to give making them a try.
7. I want to make these in white and silver for my tree:
8. How cute is this?!
9. This looks yummy and is healthy. WIN!
10. I've been wanting some of these, but not wanting to spend the money to buy them:
Here is something I actually did make and it is now pinned on Pinterest.