I am a sucker for Target's Dollar Spot. I am downright giddy if I happen to catch it when they are clearancing out items. I've picked up little board books for 25 cents when that happened! Since I love a good little round up, today I am sharing 5 ways to use Target's Dollar Spot.
Oh, and the last giveaway for this week is tagging along on the bottom of the post…Target fans, you will not be disappointed.
If you have discovered the Dollar Spot already, you know how awesome it is. If you have never stopped in this little treasure trove, it is the little section when you walk in to a Target store. There are a variety of items (that change often), all priced at either $1 or $3. It is Ah-mazing.
But what can you do with all those wonderful goodies? I am so glad you asked.
5 Ways to Use Target's Dollar Spot
Really, the options are endless simply because the items you find in the Dollar Spot are so varied. I am going to cover the few ways I have used these items today and you can probably look forward to seeing more ways showcased in the future.
Operation Christmas Child – This is a great spot to pick up items for your shoeboxes. Lots of little toys, stickers, socks, coloring books, and other items.
Homeschool organization – I have found gorgeous file folders, notebooks, baskets/buckets, and little containers in the Dollar Spot.
Planners – Up until this year, I used a month-at-a-glance calendar from the Dollar Spot for my blog planning. It worked and it was cheap. In addition to this handy calendar, there are loads of little papers, sticky notes, and stickers that you can use to decorate/add functionality to your planner. More on how I do this coming soon.
Journaling – For Christmas last year, I found some really awesome small journals for my kids. There were both lined papers and unlined papers, perfect for written or doodle journals.
Stocking stuffers – Similar to OCC, I have picked up many stocking stuffers from the dollar spot.
If you have any creative ways to use Target's Dollar Spot items, share them in the comments! I'd love to hear them!
$450 Target Gift Card Giveaway

Hey everybody! Get excited, because today we are helping our friends at Pretty Providence celebrate their 3rd blog birthday with an amazing $450 Target Gift Card Giveaway! Who doesn't love Target.. am I right? I personally could spend way too much time and money there if I let myself! Such a guilty pleasure, that store! Well one lucky winner will feel no guilt over their major shopping spree, can I get a woot woot?!
We have some of our seriously amazing blog friends helping us bring this giveaway to you today, and it wouldn't be possible without them, so how about some quick introductions?!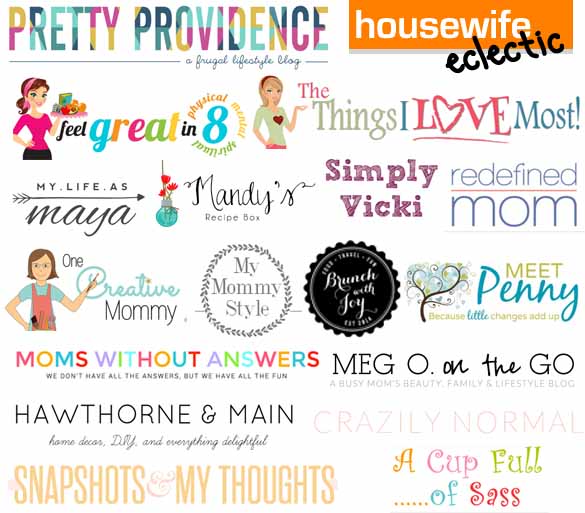 Pretty Providence || Mandy's Recipe Box || Housewife Eclectic || The Things I Love Most || Simply Vicki ||Redefined Mom || Brunch with Joy || Feel Great in 8 || One Creative Mommy || My Mommy Style || Meg O. On the Go || Moms Without Answers || Meet Penny || My Life as Maya || Crazily Normal || Hawthorne and Main || A Cup Full of Sass || Snapshots and My Thoughts
Okay, now let's get down to the goods! All you have to do to enter is follow the prompts on the rafflecopter below, and this one is so easy ! I mean, who doesn't love some great new friends to follow on Instagram?!
Good luck everybody! We hope YOU win ;)! Be sure to check back at Pretty Providence because they have tons of birthday posts and 5 live giveaways up to celebrate their blog birthday this week!