Previously: why, how, and when do I start teaching?
Today I am going to do what I do best and round up some resources to help you organize your home life. And to make it easier and, um, more organized…I will organize them by home area.
Here's where I insert a little plug for my organization board on Pinterest. You know, in case you want to follow along…
And here is where I remind you that this is NOT a checklist. You are doing this one step at a time! That means you bookmark, pin, or otherwise save this post and come back to it when you are ready for the next one. And if you have no intention of organizing a certain area, more power to you.
This post is not a guilt trip. I repeat, this post is not to make you feel guilty because you are not perfect. Don't make me show you a picture of my kitchen floor. Alright?
General Organization Tips
Home Office: Papers & Bills
Kitchen & Pantries
Bathrooms
Bedroom & Closets
Books, Toys, & Craft Supplies
Laundry & Utility Rooms
Garages & Basements
Outdoors
Homeschool
In my resource hunt, I came across a monthly blog link-up that you might find helpful. It is a little like organizational heaven. It is called Organize It! hosted by Bowl Full of Lemons and 7 other blogs. The banner takes you to the main Bowl Full of Lemons blog, here is August's link up.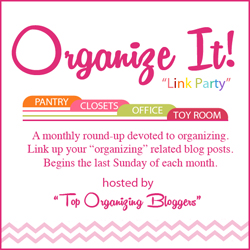 Happy organizing!