Olly for Homeschool Organization
Today's post is a quick one. Trisha from Intoxicated on Life (you may have noticed she's one of my bloggy bff's…) recently asked for help promoting a giveaway for Olly, a homeschool organization tool.
Seeing as I love homeschooling, organization, and giveaways; it seemed an obvious choice. I love bringing you all giveaways. So, here it is: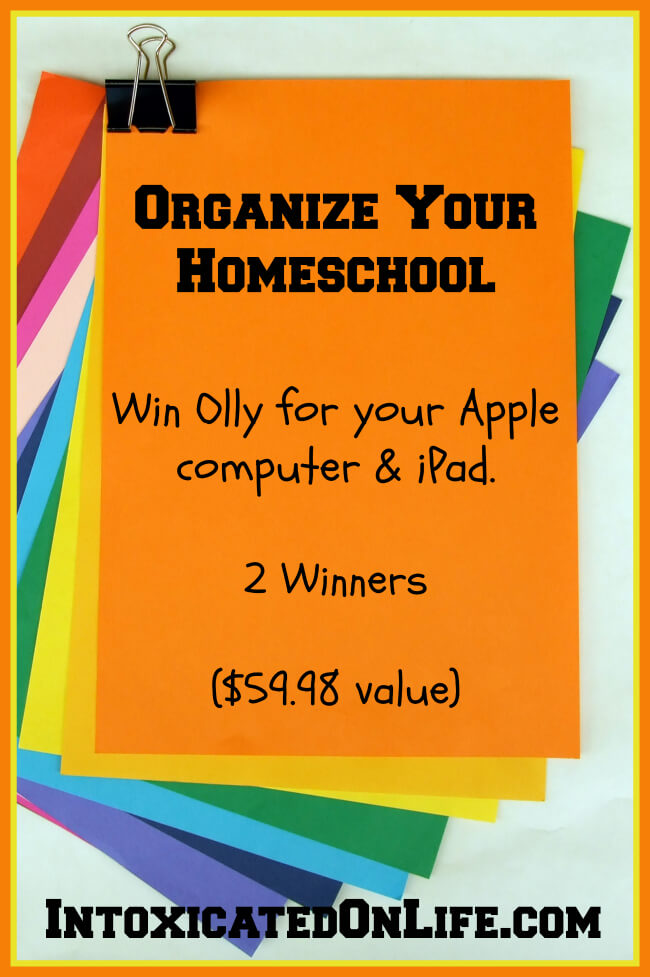 Olly Giveaway!
It's time to get all that homeschool paperwork under control! Let Olly help organize your school days and keep track of your records. With Olly you can create courses, detailed lesson plans, print out to-do sheets for your kids, record grades, maintain manuscripts, keep reading lists, and more. You can use some of the features or all of them. Be sure to check out this post that gives you the low-down on Olly.
We are so excited to give not one, but TWO of you a chance to win Olly for your Apple computer as well as for your iPad. This is a package worth $59.98! wOOhOO! Are you ready to get rid of your paper planner and record-keeping? Then enter this giveaway below. And if you don't win, don't worry. Really, for homeschool planning and record-keeping software that you can use year after year after year this is a bargain. Olly for your Apple computer is just $39.99 and for your iPad is just $19.99.