You may be noticing a theme this week. I haven't done a good giveaway series since the 12 Days of Christmas in July two years ago now. So when the opportunity to give you all the chance to win some BIG prizes, I jumped on it. I love the blessings that giveaways can be.
Today I am sharing a few of my favorite Lilla Rose items and then there is a big giveaway for $125 in cash via PayPal!
My Favorite Lilla Rose Things
The main product of Lilla Rose is the flexi clip. This unique clip is so flexible and once you master the slight learning curve, it holds all day long. The size I wear most often is the mini because I wear my hair half up a lot.
But Lilla Rose isn't just about the awesome flexi clip. I recently ordered a hair band (head band) and a set of bobby pins to try. I love them both. The hair band actually stays put, unlike others that I have tried. They usually pop off my head if I happen to move it, which I do often.
The bobby pins are gorgeous! I will admit, I had a hard time spending several dollars on a pair of bobby pins. However, these aren't tiny like the Goody bobby pins you find in the hair care section of your grocery store. They are over 2 inches long and hold firmly in my hair. I currently have one pair, but intend to buy more.
Enough chit chat, here is a short list of my favorite Lilla Rose things at the moment. I will go left to right, starting with the top row in the graphic.
Be sure to check out all the loveliness that is Lilla Rose. In addition to the flexis, bobbies, and hair bands, they also have hair sticks, you-pins, badge clips, and more.
$125 PayPal Cash Giveaway!
Hey everybody! Get excited, because today we are helping our friends at Pretty Providence celebrate their 3rd blog birthday with an amazing $125 Paypal Cash Giveaway! A little extra cash never hurt anybody, am I right? Whether you need some cash because times are tight or you are gonna splurge on something fun, this giveaway is for you!
We have some of our seriously amazing blog friends helping us bring this giveaway to you today, and it wouldn't be possible without them, so how about some quick introductions?!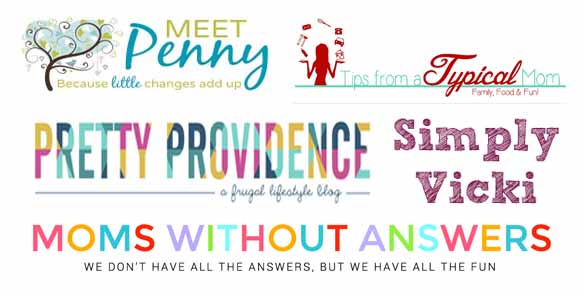 Meet Penny || Tips From a Typical Mom || Pretty Providence || Simply Vicki || Moms Without Answers
Okay, now let's get down to the goods! All you have to do to enter is follow the prompts on the rafflecopter below, and this one is so easy ! I mean, who doesn't love some great new friends to follow on twitter?!
a Rafflecopter giveaway

Good luck everybody! We hope YOU win ;)! Be sure to check back at Pretty Providence because they have tons of birthday posts and 5 live giveaways up to celebrate their blog birthday this week!